Since 1 March 2019, Switzerland has been divided into six asylum regions: Western Switzerland, Eastern Switzerland, Central Switzerland and Ticino, Bern, Northwest Switzerland and Zurich. These regions offer about 5,000 accommodation places. The number of places per region is determined based on its population. Each region hosts between two and five centres:
Federal asylum centres with processing facilities: These centres conduct the asylum procedure.
Federal asylum centres without processing facilities: These centres house people who are being processed through the Dublin procedure or have to leave Switzerland.
Special centres: These are designed to house asylum seekers who breach the peace or disrupt a centre's operations. Only one of these centres exists in Les Verrières.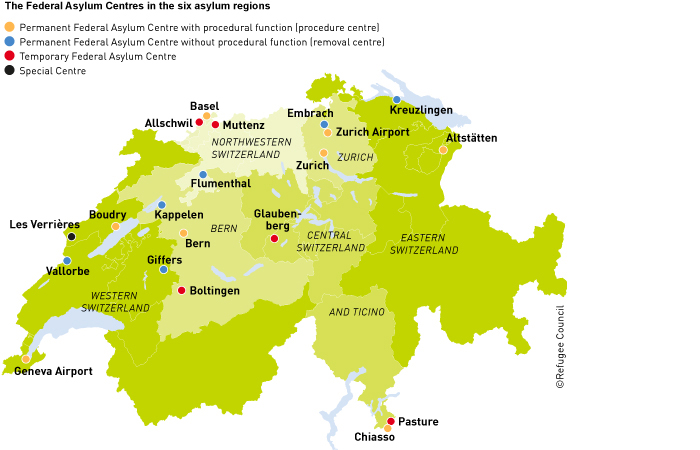 Under the accelerated asylum procedure system, the maximum length of stay in a federal asylum centre is 140 days, after which the person is assigned to a canton.
Accommodation in the cantons
In the extended procedure (i.e. when status determination takes longer than 140 days), and after an asylum decision has been issued, cantons are responsible for housing asylum seekers. For this purpose, they receive a set amount of compensation from the Federal government.
Respect for fundamental rights: Fundamental rights must be prioritised over security measures. Remote asylum facilities located far from urban centres and healthcare facilities, surrounded by barbed wire fences and video cameras remind asylum seekers of prisons and severely restrict their freedom of movement.
The local population must be able access asylum centres: Many locals would like to make contact with asylum seekers and be free to visit them in their accommodation without hindrance. Those who wish to do so, should be able to and also have access to federal asylum centres in the evenings.
Comprehensive basic medical care must be provided: In medical examinations, psychological injuries such as trauma must be identified, carefully examined and provided for in every accommodation. This particular mental-health assessment is time-consuming and can take up to ten days.
Special needs must be taken into account: Especially vulnerable people, such as minors, women, elderly and sick asylum seekers or families, need separate accommodation and their own hygiene facilities in the centres.